New Buyers Guide for Trimarans
What is the best trimaran? It is a tough decision to make. Trimarans deliver on a number of "product characteristics" that any marketing team can hang their hat on: speed, stability, versatility, unique trailerability in this case, and perhaps most of all safety. But that doesn't necessarily tell you which is the best for you and your sailing plans. The truth is that many of our trimarans are multi-purpose vehicles, and so it's hard to sort out which is a "better cruiser" or which is a "better racer" and so on – because many of them have the same terminology on our website, and fans of particular models on social media tend to use that weapon of choice for everything! Here's some insight into how we see our own Corsair trimaran models.
Best for young families
The Corsair Pulse 600 is fast, fun, and sporty-looking. That gives it great appeal with the kids. But it's also the most easily trailerable – boasting trailer-to-water time of 20 minutes with a little practice. But here's the thing: in the year's since launching the Pulse 600 none that we know of have capsized in a normal sailing incident. Sure, someone might have dropped one off a dock – but these boats are stable. And with the greatest buoyancy to weight ratio of any of our tris, it's virtually unsinkable. So even in the worst case scenario of being hit by another larger vessel, this is the boat to be in. It's low to the water so men (or anyone) overboard can be retrieved most easily from this model. And it's low-cost when it comes to ongoing expenses. The sporty looks might get you thinking this is our race boat, and it can be, but not like what's next…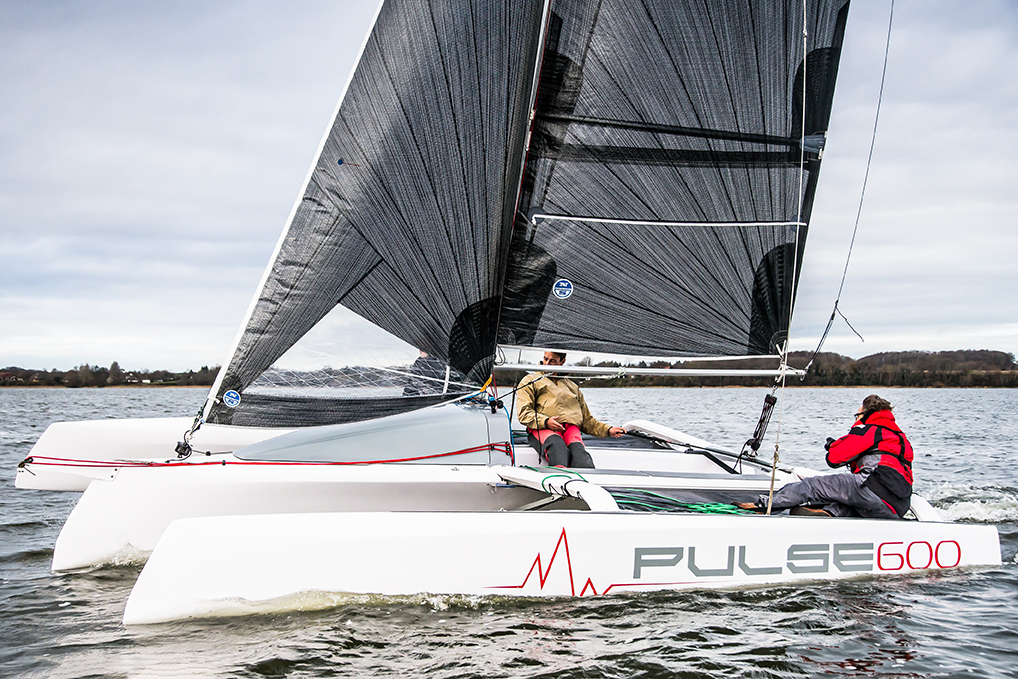 Read more: Sailing the Pulse 600 was just wicked fun!
Best for Fleet Racing
This is the trimaran sailboat to choose when you have a family, or a crew you love to sail with, and racing is the priority. This trimaran IS more tender than a Pulse 600 – let nobody tell you otherwise. But the speeds are legendary and the excitement unmatchable. It's still virtually unsinkable and is indeed a safe boat all-round. But when choosing a purely family daysailer it's the Pulse 600 you want. For fleet racing, take the 760R.
View more: Corsair 760R Specifications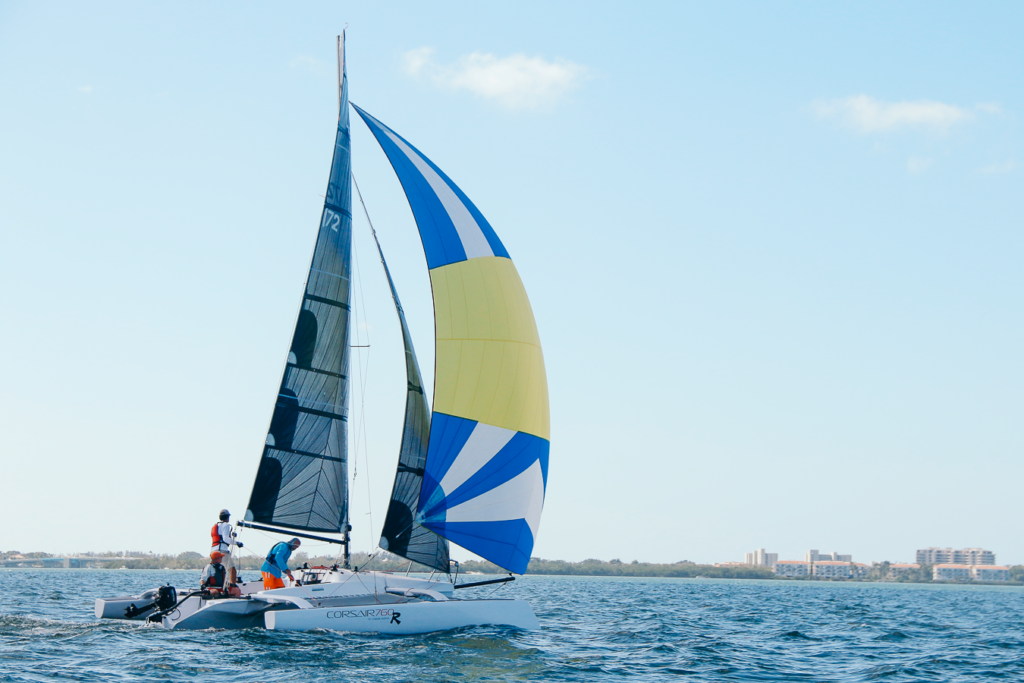 Best Inshore
The Corsair 760 standard version has a cabin, a place for a porta-potty, a small galley, and plenty of shelter when the sun or rain gets too much. This is the perfect island hopper – because it still has the remarkable speeds found on all 24ft variants of Corsair trimarans. But it truly is comfortable when you need a rest. She is also of ideal size for compact to trailer, tough, and astoundingly stable and versatile. These features have earned her the title Multihull of the Year 2018. Read more.
Sailing the Corsair 760 – fast, fun, and easy!
Watch more: 4 Reasons our family LOVE Trimarans
Best Weekender
The first "big Corsair trimaran" – and so for short stays it's the Corsair 880 you want. Designed for up to a week aboard, this sailing trimaran has separate cabins, a private heads, and a proper saloon and galley. Headroom is stunning for a 28 (or 29) footer and you get a helming experience much more apt for longer durations than what's found on the Corsair 760. This feels like a big sailboat and is. With a bit of practice you might launch this in 35-40 minutes. So there is more involved in getting from trailer to water than the trimarans listed above. But the rewards once you're in the water are night-and day. This is a big step up from the 24ft range.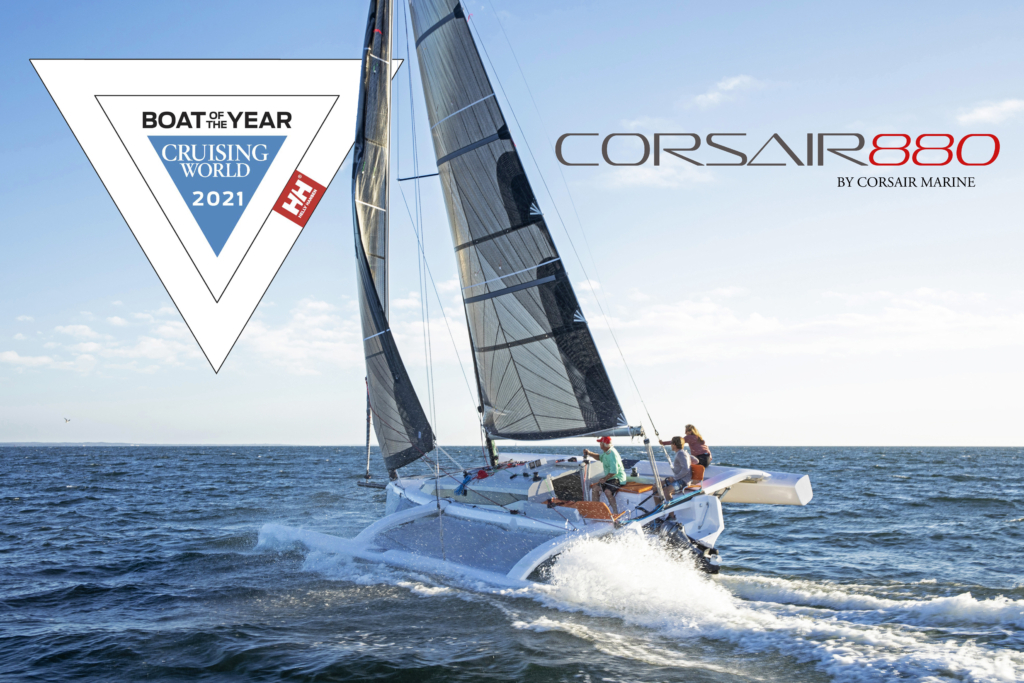 Read more: Corsair 880 To Be 2021 Best Sport Boat Of The Year By Cruising World
Best Racer/Cruiser racer
If the Corsair 880 is a Cruiser/Racer, then this is a Racer/Cruiser. The Corsair 970 trimaran is probably on level-pegging with the Corsair 880 on interior comfort. What separates the 970 trimaran is the raised helm options (great visibility and comfort for long periods on the helm) and racing practicality. The interior on this trimaran is more durable and appropriate for racers dragging sails in and out and putting in hard miles on a sailboat. So it does what the 880 trimaran does, but gives the racers more of what they're looking for. That said, it's still just 31 feet. So it's a Category B or C racer/cruiser and qualifies for some offshore races in-between. How about offshore racing? – look to the Corsair 37. But the 970 is one heck of a kick – this sailing trimaran is available in Sport, and Full Carbon construction. So that tells you something about how these boats are used and their capabilities.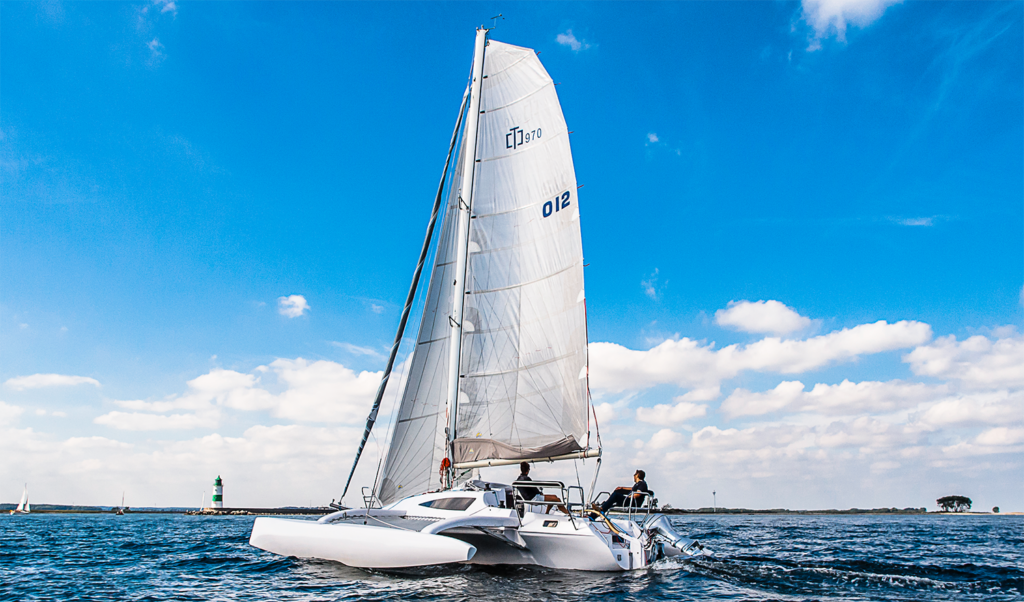 Read more: Why The Corsair 970 Is The Perfect Trimaran For You?
Best Offshore Racer
We see this as the ultimate weapon. Famed for racing and cruising in northern climes, in the tropics and anywhere in between, the Corair 37 trimaran when in the right hands is unbeatable. Is this trimaran designed to fit for families? Probably not. Handling a Corsair 37 is for the experienced, and small children are probably not the kind of distraction you need entering and leaving port in a Corsair 37 – or in changeable weather. With smaller ones, you'd probably take a harder look at the Corsair 880 and 970 first. But if you're not caught up in the hubbub of childcare this could be the outlet you need!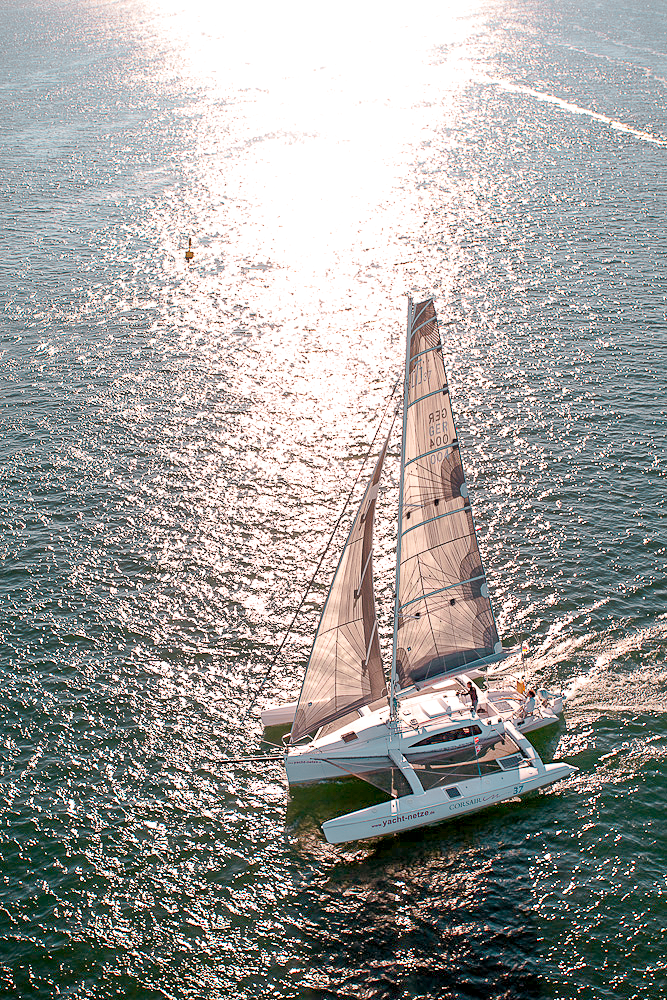 So I have made my choice of the most suitable trimaran for my sailing needs. Now what?
Trust us, we have received countless queries regardings the lead times for trimarans. Normally the standard lead time for trimaran is 5-6 months. Ohh why is it so long you may ask. It's because as impressive as they look, the process of building a trimaran often requires extensive and detailed development and designs, as well as high quality tooling and extensive filling, fairing, and checking. Taking the trimaran design for example, we elected for CNC cut beam landings and strut mounts to ensure a sufficient accuracy of those hard-to-shape areas. These components have then been grafted into the traditionally framed plugs with careful precision and measurement. Then 3D scanners are set up to digitize all components and issue an accurate digital file, which we will then use to overlay with the original design. Deviations between them are detected using specialized quality assurance software. With everything in place, we will then finely tune the parts before a final scan to confirms inaccuracies were within tolerance.
Read more
How do we ensure quality in our final design?
How we are using technology to our advantage
So it's not a flick of your fingers and it is ready on the market tomorrow, or next month. It's not the case of how we build our Corsair range. Extensive lead times only prove that our trimarans are built to the best quality. However, most of the time it is 5-6 months, but some times there are already plenty of tris sitting on the water ready to go tomorrow. Talk to us early to see what the current situation is on our backlog.