The Corsair Nationals 2021 – a huge success for the Corsair Trimaran Community
"This is the best multihulls racing event in Florida. The regatta was wonderful and very organized. We had a great time racing in the beautiful Sarasota Bay." – feedback from Tung Nguyen, PHRF Low sailor from Bayshore Gardens Yacht Club.
On a beautiful, sunny weekend – the first weekend of March, the SBMR hosted one of the best regattas in Florida.  The regatta welcomed 20 Corsair trimarans gathering together in the pristine waters of Sarasota Bay, Florida.  Here is the video recap of the regatta:
In addition to the 20 Corsairs, the SBMR Regatta welcomed some Stiletto, Windrider, Wetas and a variety of other catamarans and trimarans. The event was amazingly sucessful with 40 trimarans registered for 3 days of races.  All COVID-19 safety guidelines were outlined in the "Notice of Race" and all sailors, their crews and the organizers followed the restrictions to the letter of the law – for which we are all grateful.
This year the regatta had our Corsair 880  hull #2 joining the PHRF Low series, sailed by Tula's Endless Summer and Wright Yachts representative, Scott Wallingford. The competition was rather exciting for Billy and Sierra, who joined the regatta for the first time. They came in 6th in the PHRF race but it felt like a win to the regatta novices.
Loaded up with a month's worth of cruising gear, Sierra tells us there was a point in the race at which Billy threatened to throw all the pots and pans overboard. But he knows who's boss, and all the cooking utensils and canned food survived!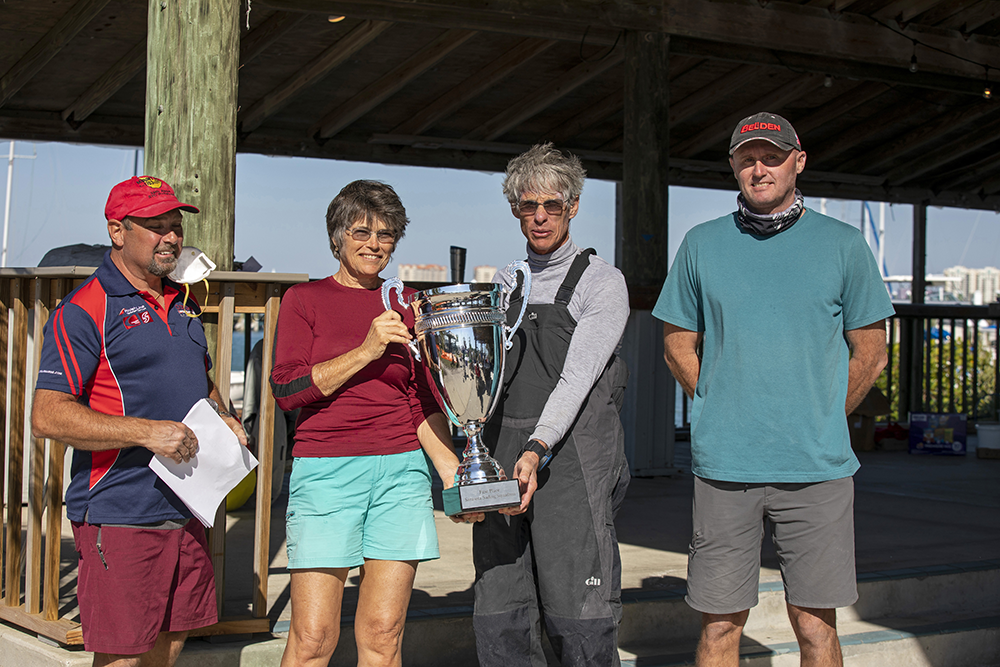 The regatta has a very simple mandate to bring the Corsair trimarans community together for a fun and exiting experience.  All reports so far tell us that's a mission accomplished.  Thanks to the great organisation from Sarasota Sailing Squadon, we managed to bring the multihull community closer together through these amazing races with great opportunities for socialising and networking.
Enjoy the nice shots of the regatta: