When Rob Wright, the owner of Wright Yacht Sales, asked me to fly up to Seattle to help commission and handover the all new Corsair 880 I jumped at the opportunity.
During the process of assembly every part easily fit together and build quality, especially for the first one out of the box, was solid. Not everything was perfect but I've learned from 40 years of commissioning boats to listen to what the boat is telling me and to find elegant ways to maintain the vision of her designers and builders and that was easy. That said we still had this handy little trimaran ready to splash in under 30 person hours with judicious use of the boatyard crane to help with ama attachment.
While commissioning I heard comments like "looks fast just sitting there" and "that's one cool boat" while other comments ranged from "beautiful" to "sick." I assume sick is a positive here.
We ramp launched late in the afternoon on a high tide, raised the mast in typically easy Corsair style and ferried her to her berth in Shilshole Marina for her first night in American waters. Bright and early the next morning we gave the 880 a bath to clean off accumulated boatyard dust and with the new owners we began to tidy things up, tightening nets and shrouds, stringing sheets and finally to bend on the Doyle Technora sails.
Typically there isn't much summertime wind in the Pacific Northwest and doing this work in 70 degree temperatures with clear blue skys was a wonderful and calm way for us to become acquainted with the 880. As both partners came from I-14 dingy backgrounds they really appreciated this time to get acquainted with their first new "big boat."
While we worked I was hopeful that the forecast was correct and that a Northerly would fill in the afternoon so after a quick lunch we pushed off from the dock to give it a go.

The 800 maneuvered easily in the marina, especially as the engine and tiller are linked and once we cleared the marina breakwater found that forecast breeze had arrived.
So much like our F-27 back home, the 880 retains that Corsair DNA and in minutes had our Main and Jib are hoisted, sailing full and by. Without doing much more than pulling the in the sheets we were doing close to 7 knots in 6 to 8 knots of wind.  We fiddled around with fairlead positions, outhaul, cunningham and sheet tensions, set rotation to an optimal position and right away we began to point well up to weather, light on the helm and well balanced. Like any multihull she liked weight far forward in these conditions and once we got our weight out of the back of the boat she responded with close to a half knot more of speed. It's hard to know how well we were doing except that there was a 40 monohull going our way and we easily sailed through their lee slowly out pointing them once we cleared them.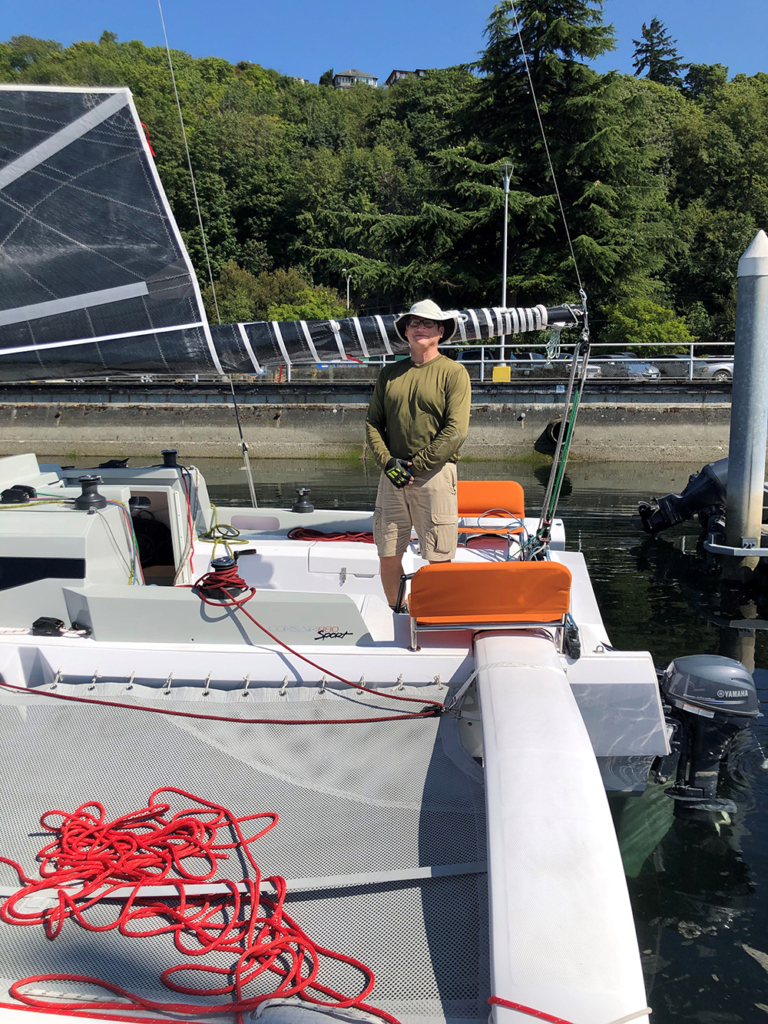 Several miles up the sound the wind increased to 9-10kts as we all took turns at the helm, talking about feel and tried different settings and with every little change the 880 felt better and better culminating in fairly steady 7 to 7.1 knots of boat speed. With the water very flat we did encounter occasional powerboat wakes but the boat recovered quickly with barely a pitch and little tendency to hobbyhorse. Yes the waves would slow us a bit but in seconds she'd rebound and come right back up to speed.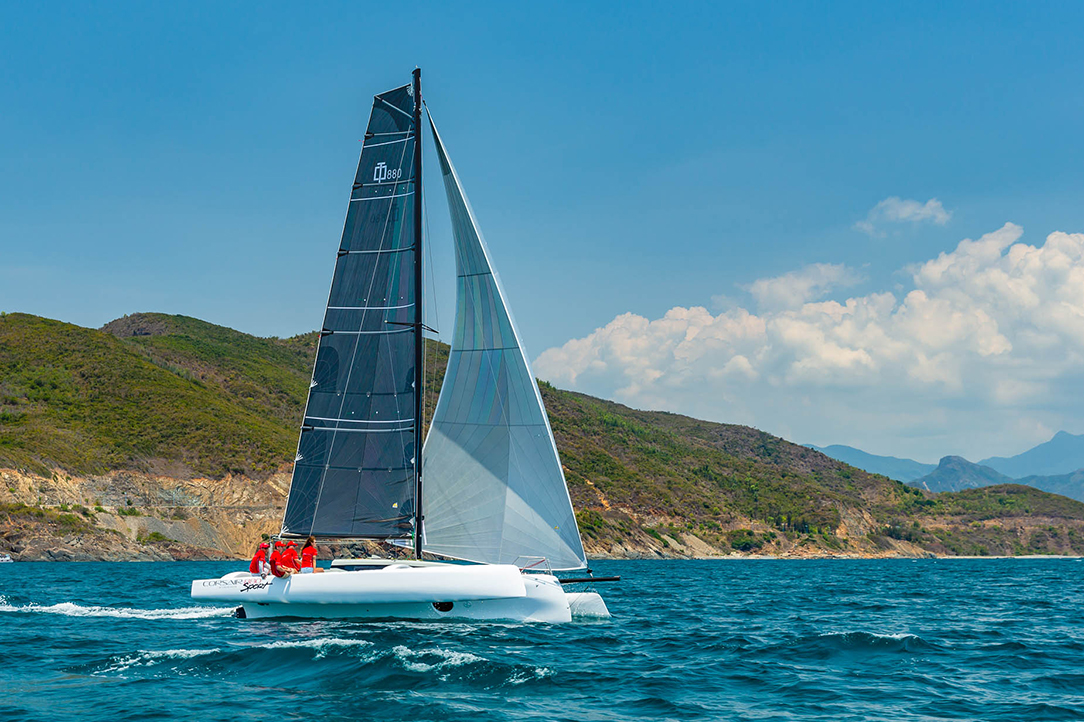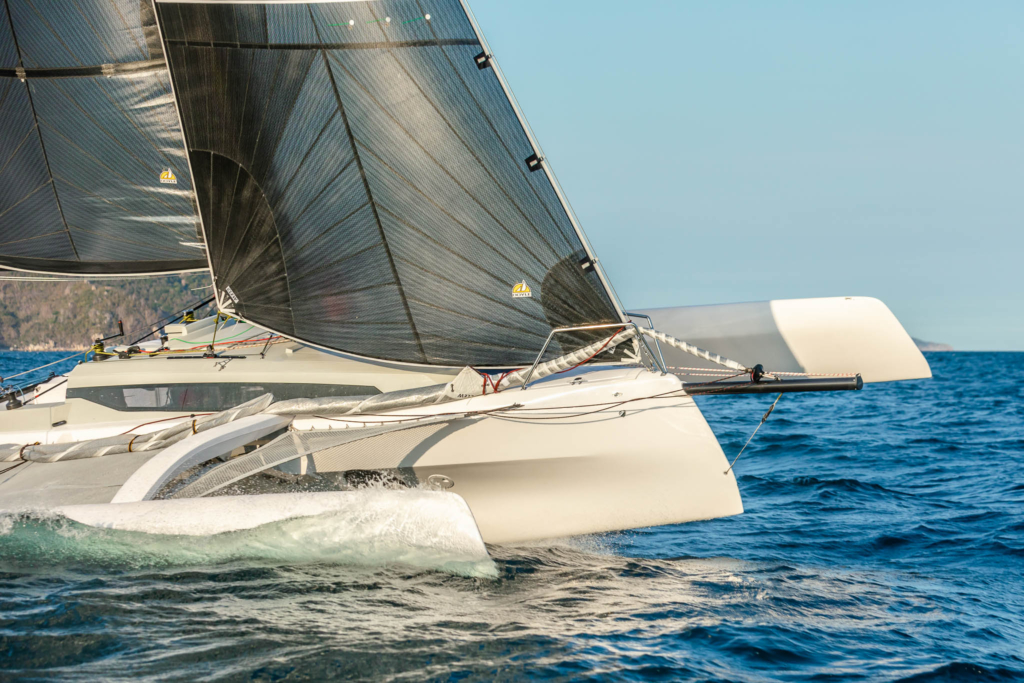 Several tacks up the Puget Sound, most the seven miles to Edmonds, we bore away and set our Asymetric Kite and off we went. Alex, one of the boat's partners at first said, this doesn't feel all that fast and quite frankly I'd have to agree except that my little handheld GPS told a different story; in not more than 10 knots of wind we were sailing steady a 10.8 to 11.1 knots! Totally a Cadillac ride; smooth, comfortable, no drama. As we neared Shilshole the wind had risen to 12 knots so we executed a Mexican douse onto and lined up on the entrance unfurled the Screecher on what was close to a beam reach, just to give it a try, and rocked the sail right up to the breakwater. All at over 9 knots.
Huge thanks to Perius Design, Richard, Mike, Shane and the entire team in Vietnam for an awesome trimaran. And thanks to Wright Yachts for the opportunity to be the first American sailor to sail this wonderful new Corsair. If ever a boat were a worthy successor to the venerable F-27 the 880 makes a strong case.

Read More: The Inside Scoop on the All-New Corsair 880 >>